This is one of the first tomatoes that I grew in San Francisco, but I grew it indoors, and it did great, but given that you have to hand pollinate tomatoes indoors, and the tomato size is small and plentiful, it was a lot of work.
I was skeptical about how well it would do outside, in the cold and wind of summer, but I've been surprised. It has been the best performer of the four varieties I planted – two others SF Fog and Russia Big Roma which did quite well previously were not so happy this year for some reason. The fourth, Lange Aermer, grew like a bush, but set no blossoms, and no tomatoes.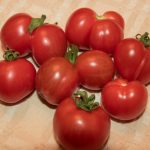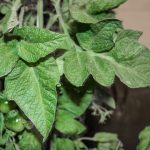 This time, Beaverlodge Slicer grew true to size as a determinant to a height of 4 feet. The leaves are the size of my hand, draping along the sides of the plant. The tomatoes are frequently misshapen as a result of fasciated blossoms growing multiple fruits that fuse together similar to the hairstyle of Mom from Futurama. The first time I grew these, the fruits were much more uniform, and seemed light and somewhat hollow. This time the consistency is much more tomato-like, but the flavor is much the same, absolutely delicious. The leaves seem really resilient to the mildew/blight/wilt or whatever it is my tomatoes usually get on the balcony from the wind and cold, which is great.
I don't know what to make of the inconsistencies of this variety. Maybe I'll source the Beaverlodge Slicer seed from another supplier and try that next year.