This year, I got a late start to starting the tomatoes. I was optimistic about the grafting, but poor germination with the rootstock and uneven stem sizes lead to failed grafts, and I had to start over a couple of times, eventually deciding to grow the traditional way, from seed, in July.
Azoychka, which had a successful graft, and Blue Beauty which was grafted as well started exhibiting the same symptoms from the year before. The lowest leaves started to brown, and eventually the branches easily snapped off. Many of the blossoms eventually die off, while some produce tomatoes. It didn't seem like there was any obvious issue with airborne diseases like mold or mildew, because the leaves went straight from healthy to brown.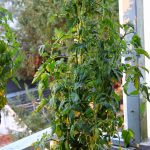 Frustrated, I read even more on tomato leaf diseases and learned that there are some varieties of powdery mildew that can kill leaves just like I was seeing, with no real visual indication of its presence. I also read about milk being an effective topical against mildew and decided to mix baking soda, milk, neem oil, and a small amount of liquid dish soap into a sprayer. Baking soda reduces the pH making it difficult for funguses to grow, neem oil can not only treat, but prevent fungals, the bacteria in milk actively kills fungus, and the dish soap helps it all to spread more evenly on the leaf surface and keeps it on the leaf surface longer.
I started applying this to the older Azoychka, and Blue Beauty, and the younger Russian Big Roma, and Black Prince.  After a couple weeks, I stopped using the milk and started using Serenade, an organic fungicide. The milk, while extremely effective, smells awful after a couple days, and we often keep the balcony door open for ventilation and it had to stop. So, while I was at it, bought a Solo Sprayer to replace my Ace Hardware POS sprayer. The Solo is nice because you can angle the sprayer head up to 90 degrees and further rotate the head in any direction to easily cover the entire plant.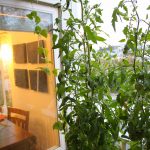 The results of these weekly treatments is pretty exciting. The older plants slowed the progress of their branch & blossom loss dramatically. The younger plants have grown up, produced tomatoes, and show very, very little signs of disease. The two pictures in this post show the full plants that have been sprayed most of their life with an organic anti-fungal concoction. By this time in the tomato's life without treatment, the bottom 1/3 of the plant would be denuded. The other remarkable thing about these plants is that it is now November, and they are still growing strong, and looking perfectly healthy in the cooler, wetter weather with less sunlight. Not to be too optimistic, but if this keeps up, the plants will still be producing next Spring.