I'm going to preface this by saying, this not so positive review is more than likely from the environment these tomatoes were grown in. The balcony where it continues to grow (yes, even in the middle of October) is full of sun, but there are frequent heavy winds bringing very chilly, moisture laden air. Some tomatoes do great out there, and others don't. Any other summer environment in the US will probably grow these much, much better. In the photo on the right, Azoychka is on the left and Blue Beauty on the right. You can see how small and spindly it has gotten with colder and windier conditions.  Azoychka is a really good cold weather tomato.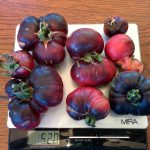 The Blue Beauty tomatoes are a product of Brad Gates at Wild Boar Farms. He took the OSU Indigo Blue tomatoes and cross-bred them with his Beauty King Tomato. The areas of skin exposed to sunlight develop the anthocyanin pigment, and the bottoms ripen to a pinkish-red hue.  The flavor is mildly sweet with a light tomato flavor. It is definitely a cool looking tomato, and I will probably have to try growing it again indoors. It had loads of flowers, but most of them dropped outside due to the conditions. I also grafted this onto Estamino rootstock. I don't think the grafting had much effect on this plant since conditions weren't favorable for it.
You can see in the first photo on the left that the Blue Beauty tomatoes I grew are a bit gremlin like, a little mutant, battered, and scarred. It didn't affect the inner flesh, or the flavor, but it takes some time to clean these up. The other photo on the left shows their real potential.
I am comparing the output between Azoychka with Estamino rootstock and an Azoychka control, but that is ongoing and will likely continue for another few months.